On July 1, walk through the Alps as Hannibal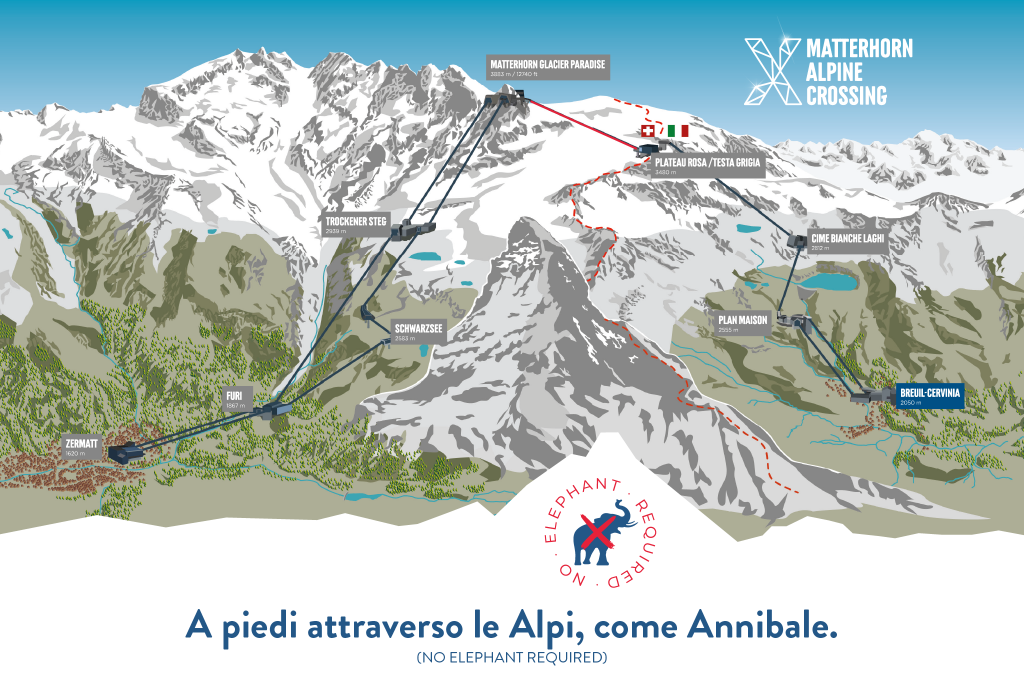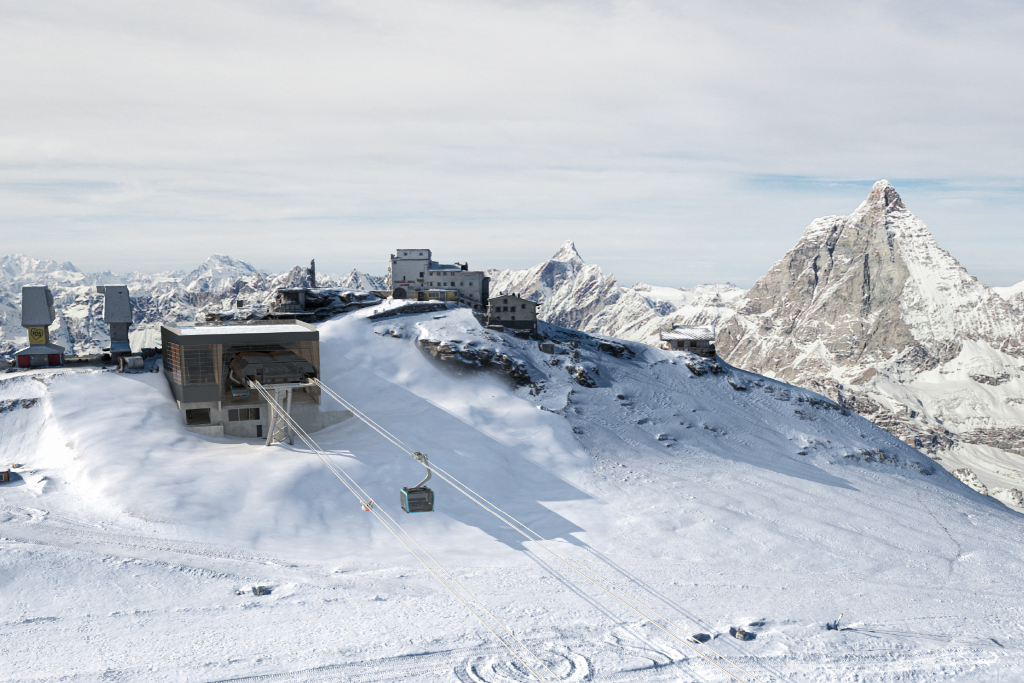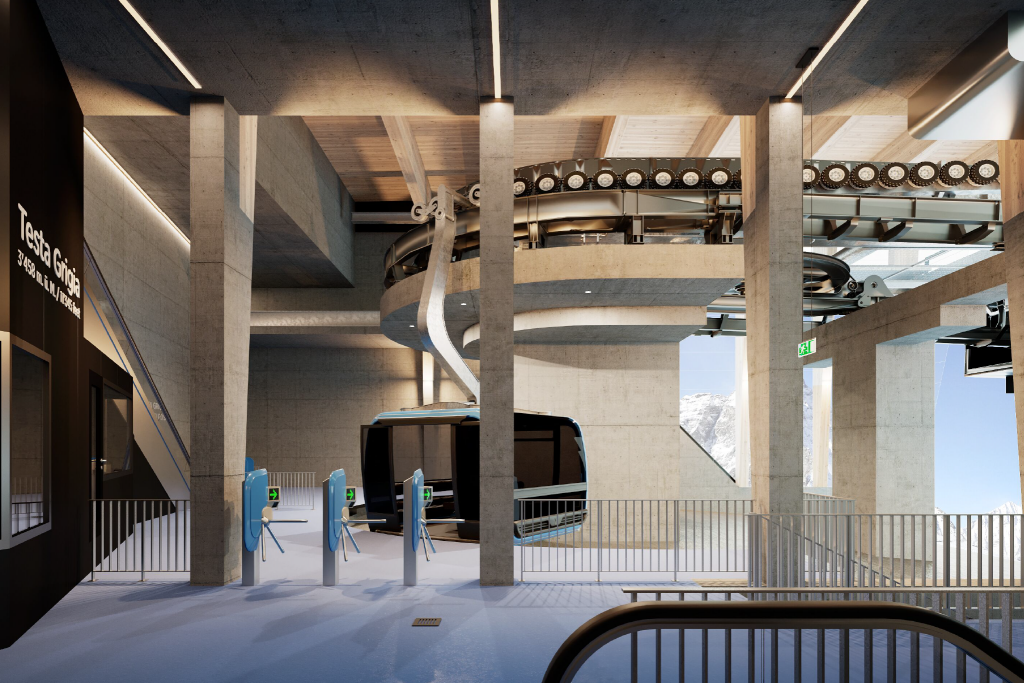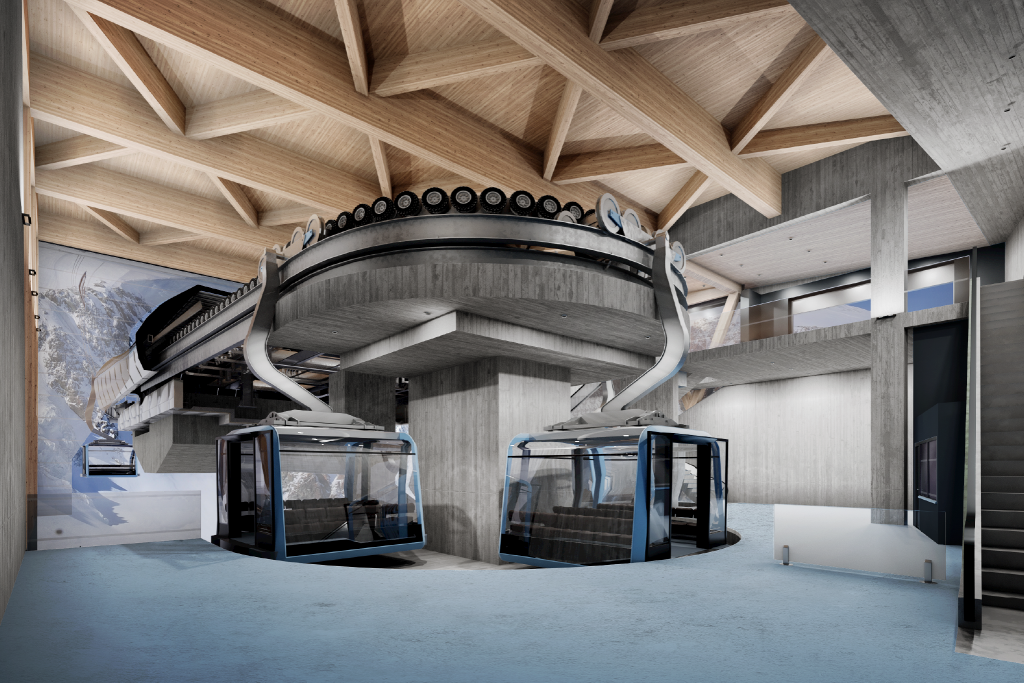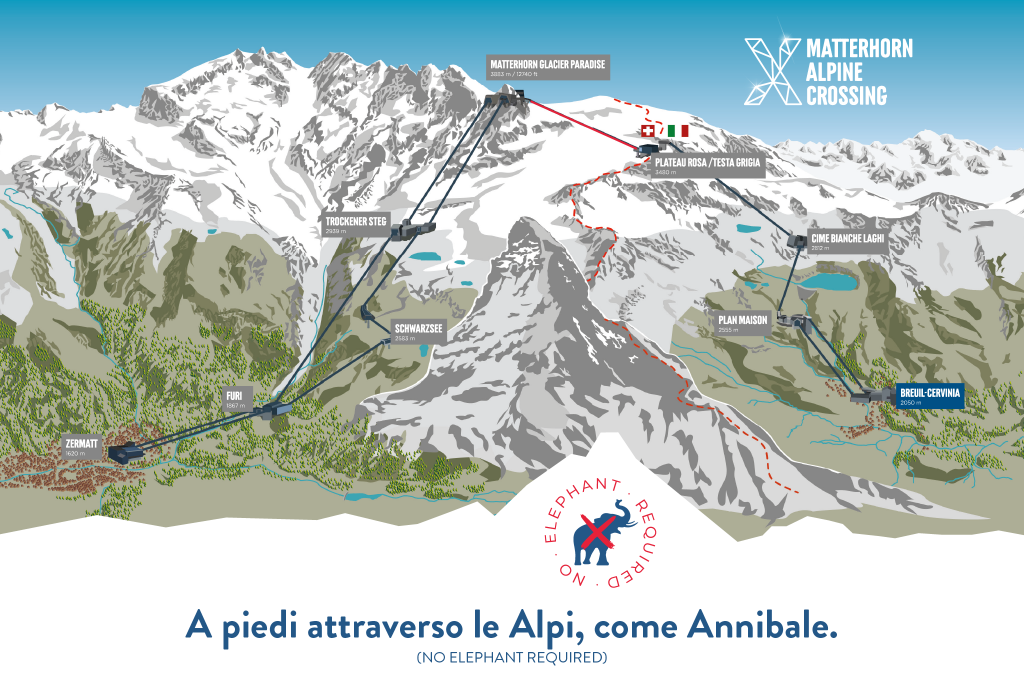 Crossing the Alps has always been a heroic undertaking, mythologized over the centuries. Ever since the epic adventure of Hannibal, who braved the mountains on the back of an elephant, up to the development of modern mountaineering, the majestic Alpine chain has aroused deep emotions and has been both an obstacle to overcome and an ambitious goal to reach.
Starting July 1, 2023, the Matterhorn Alpine Crossing offers you the opportunity to turn your dreams into reality.
This amazing adventure will take you through the purest nature, from Breuil-Cervinia to Zermatt, offering you a unique and unforgettable experience.
Immersed in a breathtaking landscape, the Matterhorn Alpine Crossing will allow you to experience the magic of a journey that touches the summits of the Alps. Every breath will leave you breathless, bringing you ever closer to the heart of this extraordinary mountain range.
During the crossing, you will have the opportunity to admire spectacular panoramas, with the towering peaks of the Alps to frame your crossing.
The wild and pristine beauty of these mountains will envelop you, allowing you to completely disconnect from the frenzy of everyday life and immerse yourself in an authentic and regenerating experience.
Prepare to be transported to a world of wonder, to be mesmerized by the power of the mountains, and to discover the true meaning of adventure. The Matterhorn Alpine Crossing is ready to welcome you and let you live one of the most extraordinary experiences of your life.
Don't miss the opportunity to make your dreams a reality.
ONLY ON JULY 1st
Round trip Breuil-Cervinia Matterhorn Glacier Paradise at €27.50*
Buy online round trip to Breuil-Cervinia at the Matterhorn Glacier Paradise 3.883Mt.
Round trip Breuil-Cervinia Zermatt at €87.50*
Buy online round trip from Breuil-Cervinia to Zermatt.

*Tickets can be purchased at the Central Ticket Office of Cervino Spa from 24 June and online from 1 June 2023.
**Pay attention to the return times available at the following links: Swiss side Timetable ZERMATT BERGBAHNEN AG italian side Timetable Cervino Spa

Follow our adventures on Cervino Ski Paradise social media